May 13, 2016
Security Systems by Phone
It used to be that a security system was tied into monitors and needed considerable space and computing requirements in order to work and protect your home or business. With the advent of both digital information and smart phones, you can now run your entire security system from any place on earth—and just by using your phone.
Commercial Surveillance Systems with All-Mobile Access
Security Systems of America handles many commercial surveillance systems for businesses around the country. We tell our clients that using your cell phone to run your security system has many advantages. You can run and monitor your system from any location—at your business, at a conference, even from the beach.
Clients appreciate these products because:
They Are Convenient. You can perform many different security and alarm functions right from your phone, including access control, video monitoring and surveillance, and burglar alarm, fire alarm, and life safety systems. A video set with motion activation up will also allow you to use the system as a virtual security guard instead of hiring someone.
They Offer More Control. Managing or owning a commercial business means that you're juggling many different duties. Carrying your security system and commercial alarm system around in your pocket means that your most important piece of equipment, your phone, can be carried around in your pocket. If you're off-site, you can still let deliverymen or clients into your office with remote access capabilities. Simply press one button to open your business's doors, and then click one more to close it after your guest has left.
The Cost is Reasonable. Now that commercial security has become digital, businesses can have access cards, card readers, intercom systems, high-def video, and unlimited digital storage that are backed up in the cloud, all for a lower cost that systems used in the past.
Security Systems of America will work with your business to design a commercial surveillance system or security system that keeps your company, employees, and clients and customers safe. Call us today to learn more about what SSA can do for you.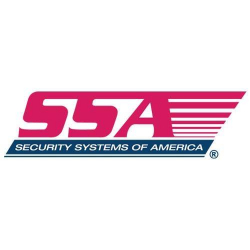 Latest posts by Security Systems of America
(see all)